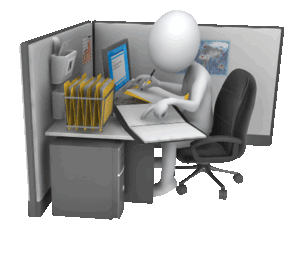 Debtors Ledger Management Course
Giving credit is a privilege given by business owners and should only be given to creditworthy repeat customers. Debt collection activities are the reaction of a small business owner when a customer doesn't pay an outstanidng invoice by the date the payment is due.  But Debtors Ledger Management is more than debt collection because it encompasses all the aspects of the Debtors Ledger Management system:
Accounts receivable  *  Customer negotiation  *  Cash flow management  *  Training employees

Customer credit assessment     *     Policies and procedures     *     Debt collection Activities      
QLD Government Business website link – advice in offering credit and managing credit risk            
Proactively managing customer debt is the goal of Debtors Ledger Management
The rewards of an effective management system:
Customers are properly assessed for creditworthiness and therefore reduce credit risk
Labour costs for collection activities are reduced as a result of on-time payments
Due to collecting the payments early, the chance of writing off a sale is diminished
As a result of on-time payments your cash receipts recovery will increase
Early collection of overdue payments consequently lowers the risk of non-payment
As much as over 90% of your customers will pay by invoice-due-date
Download the course content document to get a description of all the lectures  ⇒

3 hour Online Video Lecture Course – 27 lectures – (watch preview video below)
Downloadable resources included in the course:

 
Set of debt collection letters, phone script, customer credit application form, referee questionnaire, summary of the strategies, customer payment agreement form and more
The course offers 3 important strategies
Strategy to reduce the current customer debt
Overdue invoice strategy to manage the future invoices
Strategy to manage the ongoing ledger
What will you get from this training?
Save money by reducing costs
Have an effective and efficient system
Be in control of customer debt
Reduce the risk of non-payment of invoices and write-offs
Watch this 3 minute preview video & intro to the Debtors Ledger Management Course
Watch this 5 minute video to find out how to Reduce your Ledger Balance by 50%!
To find out how healthy your debtor's ledger system is, you can download a
FREE office procedures assessment questionnaire
from
Biz Skills website
to identify the gaps in your system.  Don't return the questionnaire for a score as no two businesses are alike.  It is to stimulate your thinking so you can evaluate what sort of system you would like in your business.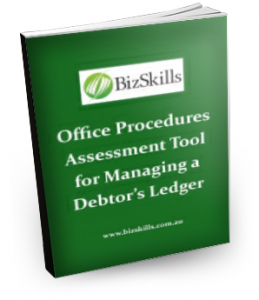 FREE Download Office Procedures Assessment Tool for Debtor's Ledger Management
Companion course
Policies and Procedures Course
Well written Policies and Procedures assist management to encourage employees to understand their roles and responsibilities.  The Policies and Procedures Course complements your accounts receivable strategies
Get in Touch:
Drop us a line anytime and we will respond to you as soon as possible.