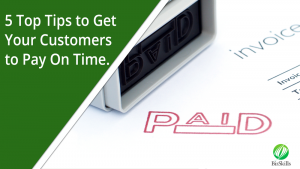 Currently one in four SME's are wrestling with cash flow and poor receivables management and 15% are having to write off bad debts.  Evidence that getting your customers to pay on time is a challenge many businesses are facing.
Getting the customer payment system in your business right is crucial to not only getting your customers to pay on time but also for the smooth running of your cash-flow.
There can be huge costs in carrying customer debt and just spending time debt collecting is not the answer.
A more proactive effort should be made to manage the ledger effectively.
Tips to Get Your Customers to Pay On Time:
1. Make sure your customers understand your terms of trade upfront.
This is one of the most important elements of making the management of the debtor's ledger work.  There is a window of opportunity at the point of sale when the customer is keen to purchase and you can advise them of your terms of trade and get their agreement to pay on time.
2.     Prepare the invoice immediately after sale.
Preparing the invoice immediately after sale is vital.  And that means also sending it out.  If you send it by email, ensure you get a delivery receipt.  Some businesses have cut off dates and if your invoice arrives late, it will be pushed into the next month.
3.     If your customer has not paid by due date then contact them by phone within 2 days of due date
If you have advised your customers upfront of your terms of trade and that you want to be paid by due date and you do not receive payment by due date, then phoning them a couple of days after due date sends a message that you are serious about the terms of the credit you have given them.
4.     Place customer on 'stop credit' when their invoice becomes overdue.
You are not doing yourself or your customer any favours by increasing the debt they have especially if they are having cash flow problems.
5.     Put an overdue invoice strategy in place.
An overdue invoice strategy is a procedure that says how many days after due date you will phone the customer or send out reminders or letters of demand.  It lists when strong letters will be sent out and if and when a payment agreement is appropriate.
And finally:
Alway remember – There is no point in making a sale if you don't get paid!
 If you found this information useful, please share it: